This website is a Progressive Web App (PWA) and is built using the latest technology pioneered by Google.
It is very different to most traditional websites because it is both an "app" and a mobile responsive website in one. The ECLIPSE PWA is one of the first of its kind to be released in Australia. The website and application hybrid allows users to visit our website and download it as an icon to their home screen. On any device. Read below to find out how.
How to access the Eclipse App
PWA's do not need the App Store or Play Store. To access the PWA as an app, simply visit the ECLIPSE home page on a mobile device. If you are viewing the PWA on an Android we recommend using Chrome as your browser. Whereas if you are using an iPhone we recommend using Safari. Once you have found our website you can download the app by following the below instructions.
Android
Once you have found the website a pop up will appear at the footer of the page. Press "Add ECLIPSE to Home screen" and the Eclipse app icon will instantly appear on your device home screen.
iPhone
In the bottom of your browser, select the middle icon.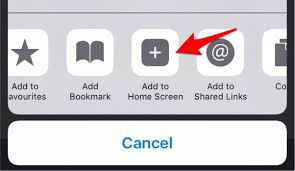 A series of options will appear.
Press "Add to Home Screen".
The ECLIPSE app icon will instantly appear on your device home screen. When opened the app version of the ECLIPSE website will launch. You'll notice it's seriously fast.
How to Update the App
To update the app – simply press the "Reload App" button when it appears in the bottom right hand corner of the app. The app will auto-refresh with all the new content ... the reload is usually very fast on a PWA.